Homesick
8th June – 18 August 2023
JO-HS CDMX presents 'Homesick', a group exhibition curated by Fabiola Talavera (Monterrey, 1995), open from the 8th of June until the 18th of August 2023.
The title of the show, 'Homesick', alludes to the yearning for a time and space that is not found anymore in the present. As manifested by the works in the exhibition, the concept of home is not necessarily associated with a geographical place, but rather persons of the past, objects of everyday life, family histories and formative youth times. Thus, homesickness appears as a deeper human longing to cling unto something familiar, a recognizable shelter in an entropic ever-changing world. 'Homesick' brings together the work of eleven artists from different latitudes that have made Mexico their home, and locals who have departed to other territories:
Avantgardo, Nicolás Colón, Bruno Enciso, Floria González, Maximiliano León, Samuel Nicolle, Akwetey Orraca-Tetteh, Isaac De Reza, José De Sancristóbal, Charlie Godet Thomas and Andrea Villalón.
SEE MORE
︎︎︎
Wild Flowers / Flores Silvestres
5th April – 31th May 2023
JO-HS is pleased to announce Wild Flowers, a solo exhibition by English artist Rose Electra Harris opening on Thursday 5th April 2023. The exhibition is Rose's first solo show in Mexico and is curated by female duo Elisabeth Johs and Georgina Pounds. Wild Flowers, 2023 is comprised of 12 paintings and a selection of watercolours made during Rose's five-week residency at JO-HS. Collecting memories from her surroundings within Mexico City, and previously also from the States of Oaxaca and the Yucatan, Rose references wildlife, flora, and architecture through colour, shape, texture. In her paintings are found both domestic scenes and imagery that flaunt Mexico's wild nature and urban city.
SEE MORE
︎︎︎
Collective Imagination / Imaginación Colectiva
7th February – 30th March 2023
JO-HS is pleased to present 'Collective Imagination 'Imaginación Colectiva' a group show exhibiting artists Demit Omphroy, Floria Gonzalez, Gordon Winarick, Neil Hamamoto, Thomas Glassford, Rodrigo Red Sandoval, Sofia Lucarelli, Julien Heintz, Avantgardo, and Pedro Assam.
The artists included in our group show seek to question societal boundaries by repurposing everyday images or objects and giving them new meaning. They aim to encourage alternative ways of thinking, in effect a new collective imagination. Through exploration with subject matter and materials these 10 exhibiting artists hold up a mirror, pushing viewers to question the norm and inspire new ways of seeing and acting.
SEE MORE
︎︎︎
Works in Gress / Trabajos en Greso
8th December – 26th January 2023
JO-HS and Olympia are proud to collaborate and
present Works In Gress, a solo exhibition of tapestries
created over the course of the last two years by
Cassandra Mayela. The exhibition highlights Mayela's
ongoing Maps of Displacement - a participatory series
of site-specific installations created through
repurposing Venezuelan immigrants' clothes to create
tapestries that evoke one of the largest modern-day
refugee crises.
SEE MORE
︎︎︎
---
Looking inwards from the outside
November 10th - December 6th
JO-HS is delighted to present an exhibition by two female artists, Anico Mostert and Melissa Rios. Looking inwards from the outside will showcase new work created during their residencies at JO-HS in September and October 2022. Both artists are experimental in their methods of creating artwork, exploring internal narratives and influences prompted by their time spent in Mexico City.
SEE MORE
︎︎︎
---
JO-HS: In Residence
September 3rd - October 31st
JO-HS is delighted to announce the new exhibition "JO-HS: In Residence" bringing together new works of five artists who have been part of the residency program summer 2022 at JO-HS.
SEE MORE
︎︎︎
---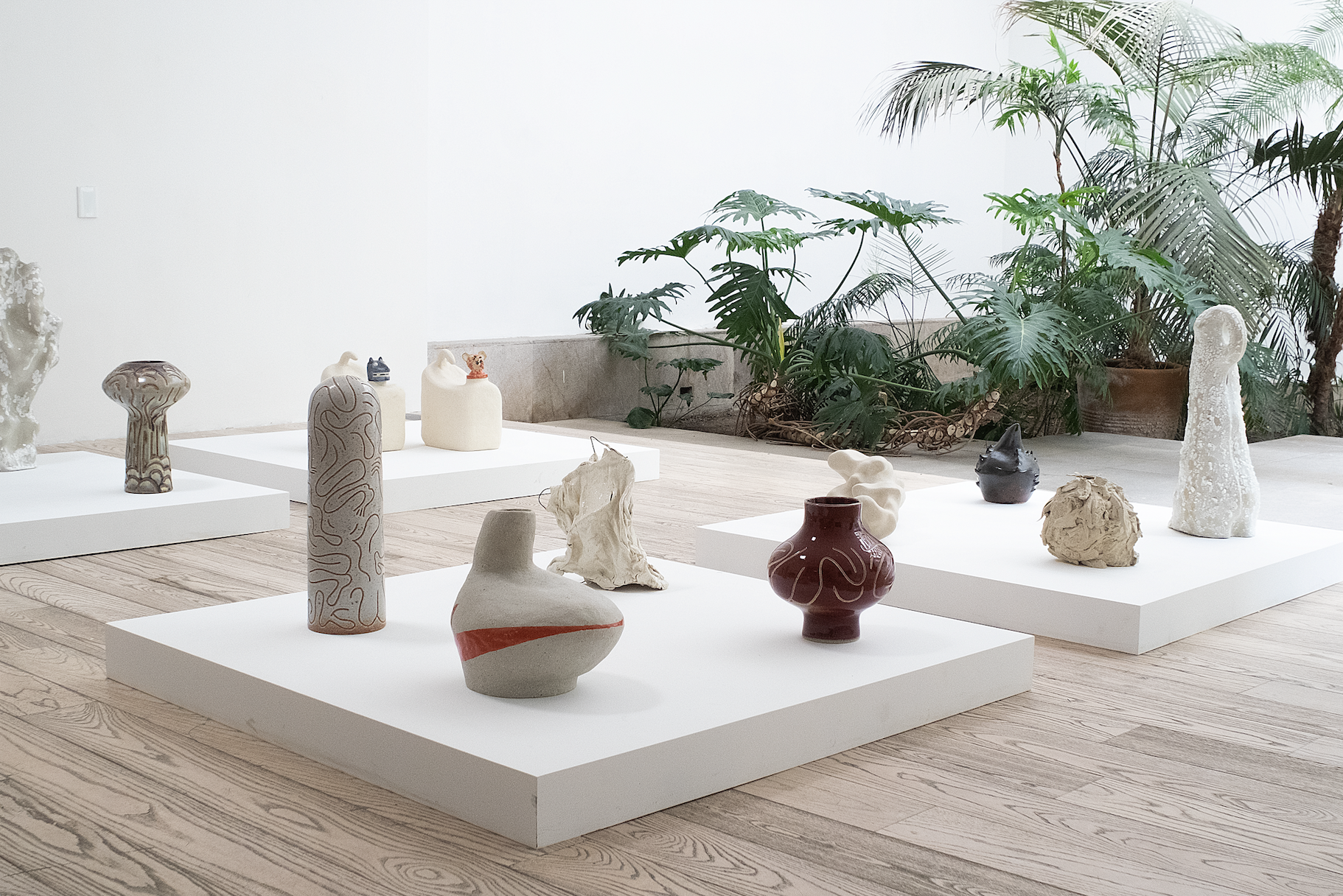 Keramos Keremos
June 11th - September 1st
"Keramos-Keremos" takes its title from the greek term "keramos", meaning "clay", or "a potter". Referring to "keremos", this is a spanish word and its correct spelling is "queremos", which means "we want". As it is well known, the use of clay has been one of the earliest forms of expression. Intended for a utilitarian or aesthetic purpose, its creation has one thing in common: human contact.
SEE MORE
︎︎︎
---
Domesticada
March 23 - May 10th
JO-HS is pleased to present 'Domesticada', an all women's show opening March 23rd in honor of International Women's Month. This exhibition will bring together the works of women exploring and commenting on the term 'Domesticated'. Distorting and disputing conventional archetypes of gender roles and expressions.
SEE MORE
︎︎︎
---
Luz

February 10th - March 16th
JO-HS is proud to present its third exhibition 'LUZ' bringing together a group of modern and contemporary lighting designers, photographers and artists all working within the realm of light.

What is light and what would we do without it?


---
Girasol
December 9th - January 30th
Mexico City - JO-HS is pleased to present its second group show 'Girasol' with a group of contemporary painters. Drawing together the works of seventeen young and emerging artists from across the world all working in the medium of painting.
"
GIRASOL
" or "sunflower" is a symbol that encompasses beauty, happiness, and unconditional love.
SEE MORE
︎︎︎
---
November 4 - December 4th
The curatorial project
VIVARIUM
was first conceived as a collaboration between Brazilian art gardener Andre Feliciano and curator Elisabeth Johs as they pondered the idea of a museum / gallery where art could be sustained rather than left to die and subside. The conundrum of art's purpose in society brought forward many questions. If art is a mechanism for change through shifting our thoughts, How do we define what art needs to be in order to be alive? How can art be sustained? What does art need to re-generate? What should we ask of art?...
SEE MORE
︎︎︎