EXHIBITION

December 9th -
January 30th

DESCRIPTION

Mexico City - JO-HS is pleased to present its second group show 'Girasol' with a group of contemporary painters. Drawing together the works of seventeen young and emerging artists from across the world all working in the medium of painting.

"Girasol" or "sunflower" is a symbol that encompasses beauty, happiness, and unconditional love.

When approaching this body of work, Demit Omphroy thought about the attention to detail needed to grow a beautiful flower. There's much more that goes into what we see when it is at its peak point of beauty. A sunflower takes months to achieve it's full height and lifespan depends on the care that went into the plant.

To appreciate the beauty in something, one must understand everything that went into creating it: the good, the bad, and the ugly. "Girasol" represents a deeper meaning beyond the beauty of the exterior.




Girasol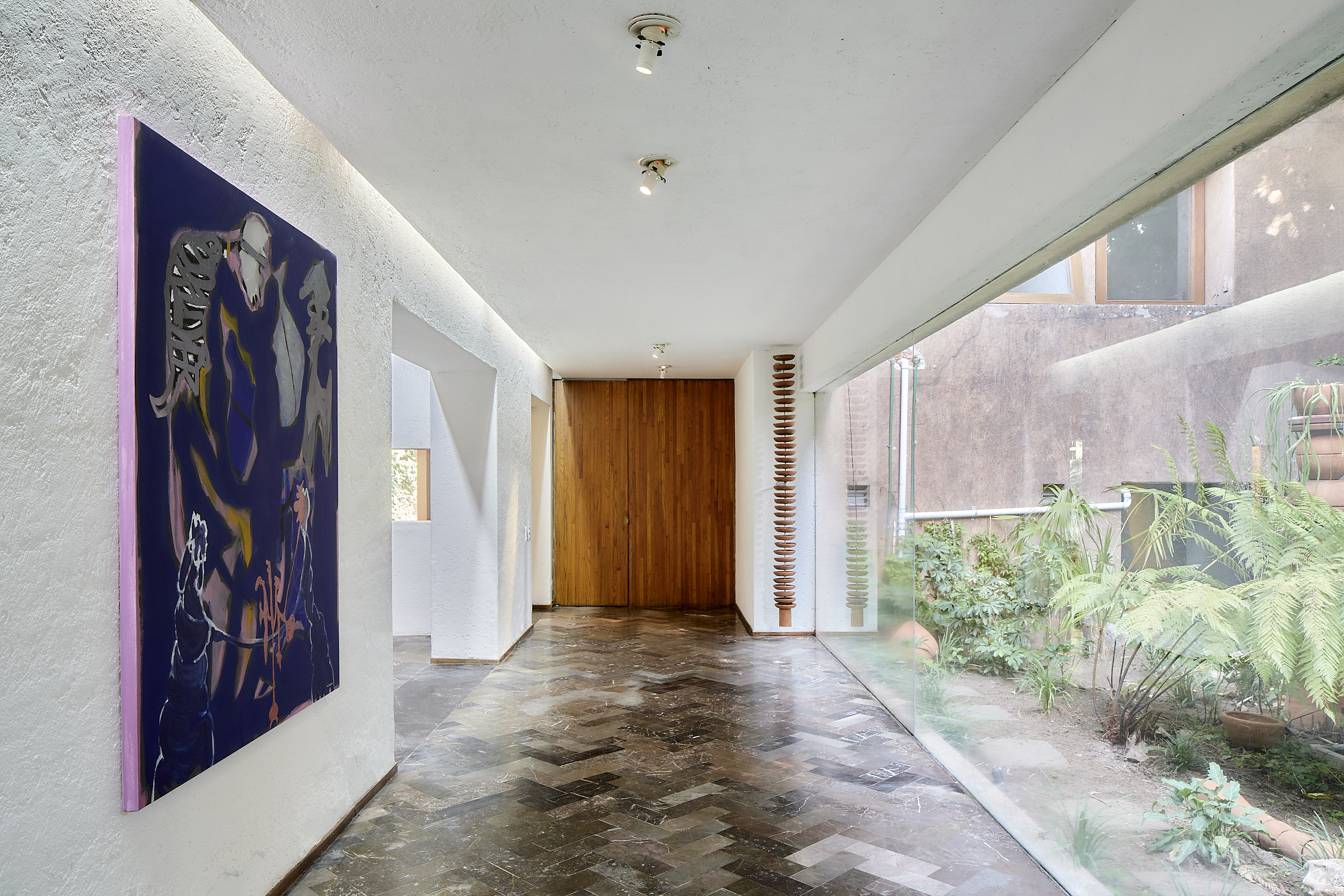 Sunlight twists a neck from sunrise to sunset. The light changes and therefore the body, occupied with its course of forgetful emotions, too. Well, trauma is a trace of something that happened, everything is trauma.
That is why the nucleus of the sunflower is black, like the night where there are some lightbulbs and from where the Sun's petals sprout.
The sunflower chases the sun,
Does he rest at night? ... Well, like the human being, even at night where he tries to get out of the logical machinery of being awake, he tries to take a rest from this life of consequences.
When one sleeps in dreams, he does not rest either. How do you try to rest from life if you arbitrarily mirror yourself when dreaming?
It's in those few pauses in which dreaming of a present burdened with futures and pasts ceases, where we die and do not think. Those sacred moments, where the body wakes so that the thought disappears and the being is free. Therefore, these small-format paintings seek to generate these small freedoms.
- Rodrigo Echeverría

Artists
Jeffly Gabriela Molina (Táchira, Venezuela)
Jeffly Gabriela Molina is a Chicago-based interdisciplinary artist from Táchira, Venezuela. In 2016, she graduated with a Master of Fine Arts at the School of the Art Institute of Chicago. She has participated in multiple group and solo exhibitions and has been commissioned three public sculptures: Nest, Casa de Turpiales, and Vaca-Mariposa, all of which are permanently installed in several locations in Miami and Doral, Florida. Her most recent projects include a solo exhibition titled Suspiro at Kavi Gupta, and a curatorial collaboration with Stuart & Co Gallery titled As One Speaks to the Stone.
A selection of paintings by artist
Jeffly Gabriela Molina
, inspired by memories from time spent living in both Venezuela and the United States. Molina says, "This body of work speaks of what life is made of – memories, day dreams, work and hope, love and loss, family and loneliness, of what is tangible and intangible."
Skyler Chen (b. 1982, Kaohsiung City, Taiwan)
Born in Kaohsiung City, Taiwan, Chen currently lives and works in Rotterdam, Netherlands. His father was a businessman who traveled constantly between Taiwan and Japan. His mother was a housewife who devoted her energies to a busy social life. His parents' absence and childhood dyslexia led to feelings of isolation for Skyler. As a child struggling with undiagnosed dyslexia, he turned to drawing and painting as a means of communicating with the world. An ex-mormon, he grappled with his queernes throughout his late teens and 20's, eventually finding a safe space to explore his asian queer identity in his art practice.
He has been increasingly productive over the past five years in three different continents. His work ranges from large acrylics on canvas, to oil on wood, prints, sculptures to video installations and children's books illustrations.
Simone Doig
Simone Kennedy Doig spent the first eight years of her life in East London, before moving to Trinidad with her family. She later returned to her childhood borough to complete her studies and decided to stay. Hybrid identity as the consequence of migration is the most important theme in Kennedy Doig's painting. The second is women: their subjectivity, autonomy and mutual relations.
Her realistic, narrative paintings feature a wide range of saturated colours, making the experience of depicted scenes much more intense. Such use of colour, as well as an illustrative, often simplified approach to figure, evoke associations with Latin American painting. Doig uses the medium to interpret everyday life, especially that characteristic of her local area, East London, housing a large Trinidadian community. The artist depicts scenes from local bars, crowded streets, or public restrooms, paying special attention to the neighbourhood's fashion and customs. The artist lives and works in London, UK.
Rafael Jaén (b. 1988, Caracas, Venezuela)
Rafael René Jaén Brillembourg is a painter who currently works from his studio in México City, México. Growing up in Venezuela with the influence of the South American Color palette and traveling around the world, he has forged a strong link with Nature. As a result, he embraces Nature as an inspiration and centerpiece of his work and the study of human behavior. Transforming everything that exists within it, he depicts the Nature that surrounds us and the one inside his thoughts, the inner voice. Using powerful and dynamic colors, he has developed a very distinctive style of his own.
"Studying human Nature is a fascinating way of gathering inspiration for my paintings. Observing the interaction between humans and Nature allows me to create a complete visual expression of that feeling. The power of the subject and the vibrancy of the colors transport your mind into places you didn't know existed. For me, Nature has the ability of awakening human intuition and exploring an individual's sensibility by connecting with one's inner energy".
Katarina Janeckova (1988, Bratislava, Slovakia)
Katarina Janečková Walshe was born in 1988 in Bratislava, Slovakia. From 2009 to 2013, she pursued her education and received an MA in Painting from the Academy of Fine Art in Bratislava with her first solo show in 2009. She currently resides in Corpus Christi, Texas as well as New York. Inspired by the roles of masculinity and femininity, the wide availability of sexual content, and challenging the male gaze through sexual liberation, Janečková Walshe uses playful colors and characters to direct and discover the role of sexuality in the modern world. Cartoonish bears depict the virility of men while beautiful women in Rococo colors play and pose for the audience, allowing viewers to reflect on their own preconceived notions of gender roles and identity. No stranger to representing dichotomies in her work, Katarina flirts with a fantastical world based on her honest interpretations of the life she has experienced.
As a European in America, Janečková Walshe is also fascinated with eccentricities of what she has witnessed from American life in Southern Texas, exploring gym culture, American masculinity, and the Southwestern landscape. With the birth of her first child and residing in a new country so different from her own, Katarina tackles the beautiful and surreal moments of day-to-day life with work that reflects these new adventures. Janečková Walshe has shown internationally in five countries with a large following around Europe and North America.
Demit Omphroy (b. 1989, California, USA)
Demitrius Omphroy is a former professional soccer player turned artist. Originally from California, his father was a professional athlete and his mother was an artist. His art over the years has been compared to the works of Picasso and Matisse. With his mother being an artist, he grew up around art in a creative environment. It was in college when he became drawn to the art studio classes and naturally felt like he needed to put his focus into expression through painting.
His work could be described as playful, expressive, and simplistic, yet loaded with emotion. Omphroy tries to evoke feeling from his color palette but also has a simplified way of depicting figures that represent experiences in his life. He represents what he's feeling at the exact moment, therefore his work is impulsive and unplanned. "My mantra as an artist is that finding our own voice requires unlearning things we were taught in school and re-learning how to think like kids again." His playful, expressive style was born from trying to re-learn how to think, back when he was four years old – back to his purest mind state of creativity.
Tori Pounds (b. 1995, England)
Tori Pounds is an English born mixed media artist and oil painter based in Mexico City. Her works encounter ideas of ecology and the collateral damage from an anxious society, looking closely at what follows after the extinction of the human and what might be left behind. She completed her BFA at the Academy Minerva in Groningen, Netherlands in 2017. Further studying painting in New York City as part of an exchange semester at Hunter College. Afterwards, she worked in various veterinary hospitals as a theatre auxiliary, becoming intrigued by the varied modern relationships between man and animal and the food chain.
Throughout her works, strange objects and animals are combined with surgical and domestic backgrounds, together informing notions of a surreal existence and questions about reality. In her own dream-like landscapes, the animals represented become symbolic and play the protagonist roles throughout her work. Using a bright colour palette and a mixture of smooth and defined brush strokes with blurred areas, she reflects a falsified and plastic world, adding details of consumer products, bloody organs and exaggerated food, provoking political and social conversation.
Zarha Holm (b.1989)

Originally from Sweden and Tunisia, contemporary artist Zahra Holm is living and working in Paris, France. She started drawing at a very young age and began developing her love for arts. Zahra is a self-taught painter, primarily working with oil paint. She has obtained a diploma in Scenography and Set Design whilst studying and worked for several years in the cinema, theatre and french television. Zahra has continued to pursue and realise her dream of becoming a painter.
The aesthetic of her work is reminiscent of the mid-century modernist painters. She is fascinated by the female form, the main subject of her work. Her bold use of colour and curvaceous lines create striking compositions that reflect the beauty and power of women. The forms suggest femininity, conventionally considered female, symbolically female, close to abstraction. Her work is a tribute to the essence of femininity, discovering imperfection. She confronts through her art the society of today, where perfection is everywhere. The painter filters her personal experiences, questioning herself through abstraction and simplification. The colors and shades in her work are colorful and warm, spontaneously influenced by the light, the seasons and the mood of the artist.
Rodrigo Echeverria (1988, Ciudad de México)
Painter who lives and works in Mexico City. After completing his studies at Concordia University in Montreal in the summer of 2012, he finds that there are different ways of painting in different places around the world. This lead him to reflect that if each culture and custom creates in relation to their needs, then painting immersed in different climates and cultures will have an obvious impact on his work; for him his oeuvre is self-knowledge and the more it is affected by existence, the more life will be preserved in it.
His daily practice consists of a constant reading in the mornings which he resonates in the remainder of the day dedicated to painting. He has two persistent concerns. One is the Sun, because although it is thought far away, in reality it is always affecting us intimately. The second is God. These concerns are represented in his paintings, from the figurativeness of the human being and his relationship with the space, whether in the exterior landscape or in his interior landscape.
Paul Lozano Dahms (b. 1978, Toronto, Canada)
Paul was born in Toronto, Canada in 1978 and grew up in Managua, Nicaragua in the 80's. He then moved back to Canada and has been living and working in Mexico City since 2005. He's exhibited in several Ottawa, Vancouver and Mexico City group shows. Mostly painting in oil (figurative), he playfully moves through difficult subjects with his own sense of humor. There is a contrast to his work, both light and dark, in tone and subject matter.
He will have his first solo show in March 2022 in Mexico City. Paul lives and works in Mexico City.
Rodrigo Navarro (b.1995, Edo. de México)
Rodrigo Navarro was born in 1995 in Nezahualcoyotl, Edo. Mex, Mexico. In 2017 he entered the ENPEG "La Esmeralda" in which he is currently studying the 6th semester of his undergraduate degree in which he is specializing in painting. He has taken different courses and diplomas complementary to his artistic education, among which are "Photography" at the CaC, Saúl Serrano. "History of art" at the Cento ADM. "Poetry and Metaphor" in La casa del lago UNAM. "Sketch" at Mostro studio and has attended the painting workshop at Shwarstein gallery and at the Emilio Lameiras Painting Workshop. He is currently part of the "Lagos'' studios where he participated in Gallery weekend 2021.
His work revolves around the representation of his body inhabiting a space, representing his body in a sensitive way and observing himself, while space represents him from observation, added with imagination and memory. It explores the sensitivity of the human body to the space in which it inhabits, generating a dialogue and continuous adaptation between the human figure and the inhabited space, in moments of daily intimacy, emphasizing alienation, self-absorption, self-conflict and work. repetitive.
In the same way, he seeks to explore different pictorial treatments that operate autonomously, but integrated into the totality of the painting, as well as the relationship between the image and the support on which it is painted.
Uriel Márquez (b.1990 en Zacatecas, México)
Motivated by the capacity for reasoning and awareness about ourselves, my work studies the possibilities of portraiture and the identity of people, specifically of a spectator; through an approach to them and their expressions, perhaps by affinity between the two, admiration or simply curiosity. Viewer portraiture is worth thinking about as a virtue, with visual narratives that show not only our bodies, but also our behaviors and the endless opportunity to learn from others. "I like the idea of visually and plastically provoking people, through images that evoke themselves, and that despite only looking like the image of an image, we are able to establish new ideas and thus have some thought about our own existence".
Floria Gonzalez (b.1980 in Monterrey, Mexico)
Floria studied photography and film in Mexico City and San Antonio, TX. In 2003 she began to work as a photographer, forming her way into art. Always meticulously building sets for her work, the colors, textures, costumes, and characters, whether in the studio or on location. First, she makes a storyboard, drawing, watercolor, or acrylic as a basis for photography or video, where the concept and aesthetics of the piece and the series are captured. Recently Floria González has been reading about parallel dimensions, the simultaneity of events, the true nature of time, the interconnectedness of all things in the universe, and the influence they have on energy and external matter, individual will, intention, and consciousness.
Her interests denote an artist who explores the composition of reality and the possibilities of modifying it. She takes art and commercial photography, exhibiting in places such as Mexico (various states), N.Y., Los Angeles, Miami, Texas, Milan, Berlin, Singapore, Bolivia, Chile, Argentina, Colombia, London, etc. In the commercial field, she has worked for brands such as Distroller and has directed videos for Leonel García, Natalia Lafurcade, Torreblanca, Kaay, and Adrea Balency with the participation of many artists such as Jorge Drexler, Kevin Johansen, Quique Rangel, Carla Morrison, among others and has made the visuals for the concert of Leonel Garcia, Natalia Lafourcade, Carla Morrison and Paty Cantú. She made a documentary for Alondra de la Parra in Tokyo and visuals for the theatrical performance Dirt by Chula the Clown.
Alicia Ayanegui (b. 1994, Ciudad de México).
Ayanegui studied at the Bachelor of Visual Arts at the Faculty of Arts and Design at UNAM and at the Faculty of Arts and Design at the Finis Terrae University, in Santiago de Chile. For the artist, painting has become a tool to recognize her environment, which she nurtures from each place that she inhabits and where she finds new motifs, colors, shapes and feelings to express.
Her plastic production is the result of the meticulous observation and analysis of spaces and forms of her everyday environment, which she processes, abstracts and reconstructs. Likewise, her work speaks of a very particular interpretation of fragments of common objects, which for the artist keep some history of who uses them, regardless of the conditions in which they are found, there is always a beauty and poetics in them.
"I would like the public to reflect on the everyday spaces that surround us, those that go unnoticed, but that you can always find beauty, a story or they tell us about the people who inhabit them. I think that the viewer can see the works and possibly feel identified with their memories, but from the artist's experiences "—Ayanegui.
Moza Saracho (Mexico City, 1979)
Graduated from the Bachelor's Degree in Scenography from the European Institute of Design in Rome (1999-2002) with a specialization in abstract art at the National School of Fine Arts in Paris (2014), as well as a Master's degree in Fine Arts from New York University. She lived and studied in Rome, New York, Paris, South Africa and Amsterdam. She began her career as a stage and costume designer. She also worked on Broadway and returned to Mexico in 2010 to be in charge of the scenery and costumes in the production of La Cenicienta by Gioachino Rossini with the Orquesta del Teatro de Bellas Artes de la Ciudad de México. Among her exhibitions, her solo show MIRRORS by MOZA, curated by Anne Huntington in New York (2012), stands out. Moza has exhibited in different galleries in New York City and has been selected to participate in the Emerging Salon of Art Basel Miami in 2016. In 2012 she was a guest artist at the Watermill Center, as well as a resident artist at Willem de Kooning's studio in East Hamptons, New York. She has exhibited internationally in important spaces such as the Festival de la Diversité Culturelle dans le 1er. Oratoire du Louvre as well as the Embassy of Mexico in the Netherlands where she presented a special edition of her series "As simple as Tulipa". In Mexico, her work has been presented at the White Cremnitz Gallery as well as at the Mexican Stock Exchange, Pre MACO Guadalajara and Espacio Bauhaus México where she was invited to create a mural based on her Meso Molecular series (2019). She is currently working on her series on Molecular Muralism and Pyramids.