EXHIBITION

November 19th - December 6th

DESCRIPTION

JO-HS is delighted to present an exhibition by two female artists, Anico Mostert and Melissa Rios. Looking inwards from the outside will showcase new work created during their residencies at JO-HS in September and October 2022. Both artists are experimental in their methods of creating artwork, exploring internal narratives and influences prompted by their time spent in Mexico City.

Both artists draw upon their multidisciplinary experiences, Anico majored in printmaking at Michaelis School of Fine Art in Cape Town whilst Melissa's academic training involves architecture and advertising design, developing parallel projects of art direction, internal space, product design, furniture and photography.

Whilst Melissa has visited before, for Anico her residency at JO-HS was her first time experiencing Mexico City. The influence of living and working in CDMX can be felt throughout both Anico and Melissa's new work, in their vibrant palettes, the subject matter and so on. The larger canvases are some of the biggest works Anico has produced in her career and JO-HS is delighted to be able to showcase her work alongside Melissa's.

Both artists are driven by their mood as mentioned by Melissa in her interview following her residency, 'I always try to feel before I am driven to paint'. Similarly Anico's work is reactive to her environment, she works quickly in order to accurately express the emotions or feelings that prompt a painting. This can be felt in the way she depicts the quiet moments captured throughout her time exploring the city and its surroundings, in particular an interest in the fast-moving and energetic markets.

Both artists aren't motivated or influenced by specific artists or movements. Melissa's upbringing in Costa Rica and its lack of development in terms of access to museums and galleries has meant her work is very individualistic, influenced instead by her own dreams and experiences. Similarly, Anico's work draws upon her own internal ambience rather than those of particular periods of art history or artists.



Looking inwards from the outside / Viendo hacia adentro desde afuera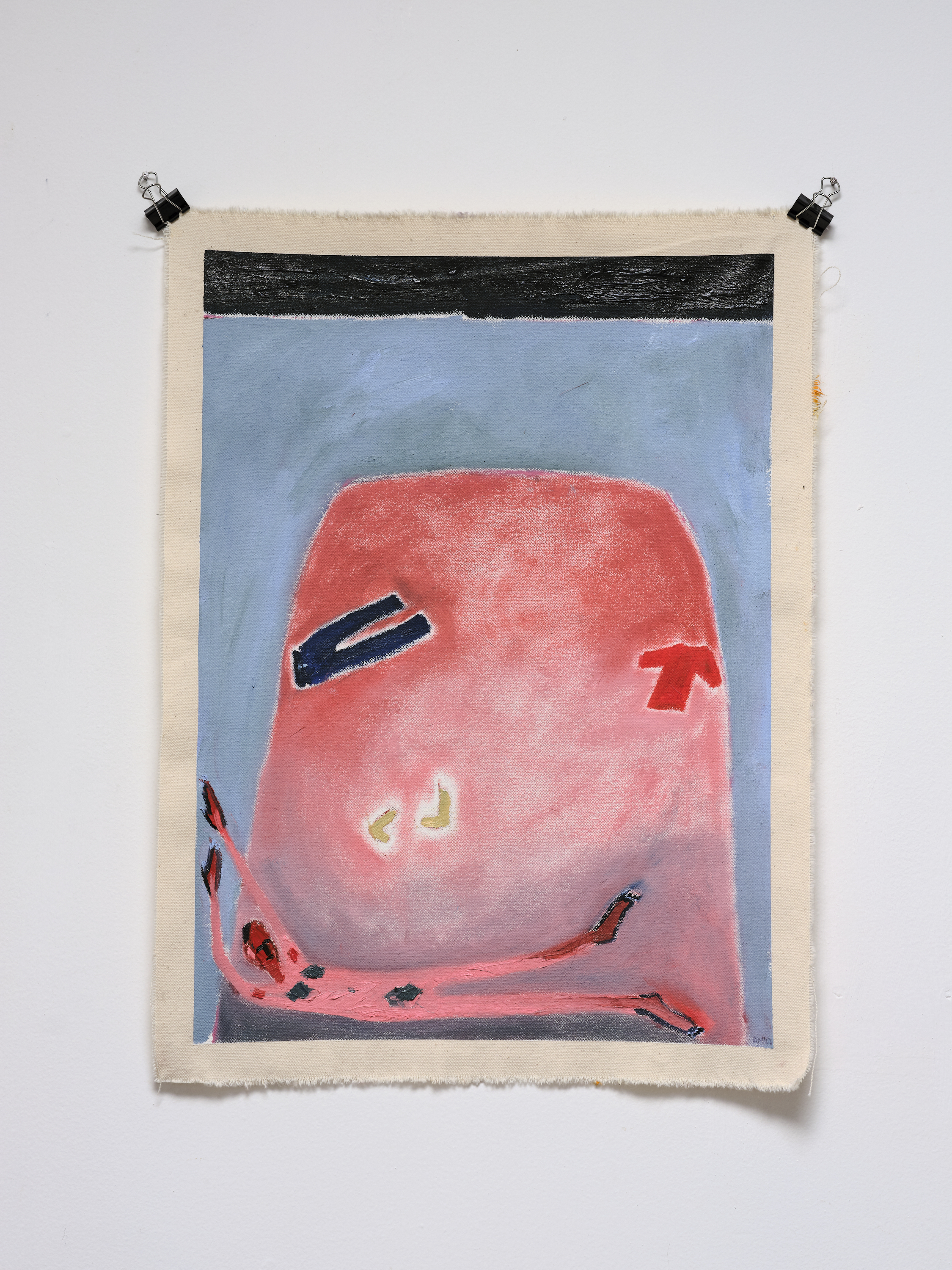 Artists
Melissa Ríos b. 1986, Costa Rica
Her artistic production focuses primarily on painting and drawing where she explores and contemplates images and space from a feminine, literary, poetic and surrealist perspective, using the limits between figuration and abstraction as a stylistic resource. Her paintings aim to create visual and imaginary stories or narratives closer to a dream than to reality.
Full of great emotional and existential charge, as an exercise in self-knowledge and catharsis, which she shares in an intimate and almost personal way with the viewer.
Her academic training involves architecture and advertising design, in a multidisciplinary way she has developed parallel projects of art direction, internal space, product design, furniture and photography. She has recently exhibited individually at Galeria Cuarto 37 in 2021, San José, Costa Rica and collectively at Valoarte 2020, San Jose, Costa Rica and "We Want to Paint" Regional Museum of San Ramon, Costa Rica.

Anico Mostert (b. 1995, South Africa)
Anico Mostert is a multi-disciplinary artist and printmaker from Cape Town. She graduated from Michaelis School of Fine Art at the University of Cape Town in 2017, where she majored in printmaking. Anico's work speaks to the quiet moments of the everyday. Her approach to making is versatile, seeing her producing across ceramics, textile design, animation and painting. She allows her practice to be intuitive and exist as a process of learning and discovery, creating the space for vivid colours and coltish figures to find their place in paintings and prints. Anico uses reference images from social media to imagine still lifes of ordinary scenes, observing the elements of the medium for the artwork to determine itself. Each piece's name occurs as Anico imagines what it would say if it could speak.
The works upend familiarity, reminiscent of home spaces, yet offering a surreal swing of imagery, where rooms are unpeopled and yet full of life and pictures of people are empty of objects. Her works exude a calm quietness, illustrating unexpected details and unassuming scenarios that verge on the mundane but are illuminated through her attention and careful color choices. Anico's work depicts still lifes, interactions and scenes that feel familiar and comforting but are also somewhat inverted and distorted to feel fresh and unexpected.